There are many applications that are ideal for the use of pavers.
From residential to commercial uses - pavers are durable and enhance the beauty of the surrounding area.
Is the versatility and beauty of pavers right for your project?
Appearance
Pavers come in a wide range of finishes and textures, as well as colors and shapes. The different laying patterns and custom designs will compliment the specific architectural design of your home, business, or community association.
Pavers VS Concrete
The initial Cost of brick pavers is nearly the same as concrete. This comes as a surprise to many who assume pavers are much more expensive and therefore do not even consider this option. Brick pavers are tightly fitted, uniform units that are placed over a sand bed and compacted to form a base. The final product is a beautiful new area that is immediately ready for use. Compare a concrete surface with a paver surface and see for yourself how much warmer and aesthetically pleasing the pavers surface is.
Since pavers are individual segments that allow for expansion and contraction, they will never produce surface cracks like concrete does.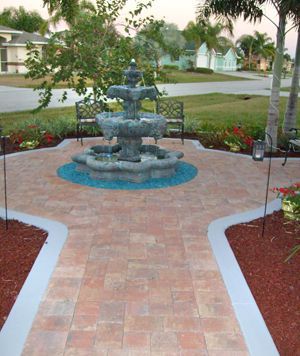 Care and Maintenance
Cracked concrete cannot be repaired, but stains or broken pavers can be easily replaced without patches. Dark colored pavers can even help hide stains. Pavers can be sealed to further protect the surface and prevent plant growth between seams.
Also pavers can be removed and replaced with ease. This allows access to existing utilities without compromising the integrity of the surface as a whole.
Artistic
The ornate beauty of brick pavers and the many shapes, sizes, and colors available adds value and visual appeal to any property! The pattern possibilities that we provide are limitless.
Safety marking features
Rather than using paint or other coatings to mark areas, we can utilize certain color combinations to designate or highlight safety areas such as pedestrian crossings, school zones and other hazards.
Pavers also have a non-skid surface even when wet.